Beyond The Fibre
The ever growing number of devices and applications that need access to the internet means it is essential the internal IT infrastructure connects securely and efficiently to the fibre internet connection.  Fast and efficient LAN switches fed with correctly installed CAT6 cabling create the backbone of a business's network. The below diagram shows the essential equipment that is required to facilitate your connections, along with some end user devices necessary but often not budgeted for: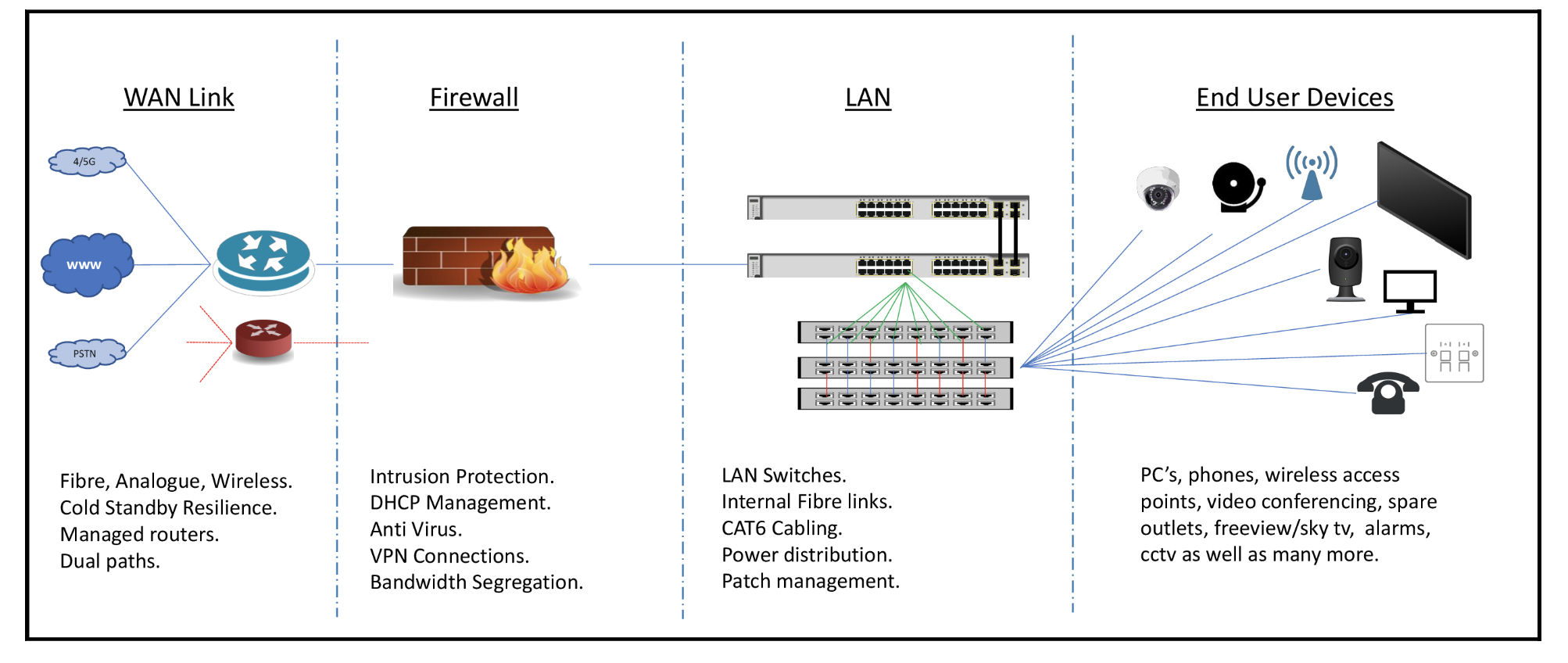 BMT will guide you through the essential LAN equipment required to maintain a fast, efficient and secure network. The physical components such as the cabling and the wireless access points combine with DHCP routers provides access to your network, whilst the intrusion protection and anti-virus software of a firewall creates the secure environment required for you to operate in. Consideration around the need for future devices and new technology such as CCTV systems, should be made during the planning stage of any project.
The final specification and equipment needed will be dependent on your individual requirements and potential desire to manage your own network. However with almost all devices from cloud based applications to modern day phone systems now needing and having internet access, it is essential the foundations are securely in place.
Installation Options
Our installation options allow you to decide how involved you wish to be in the technical setting up and management of the equipment. From a simple test and connect of the equipment to a fully managed provision the options are there to facilitate the needs of your organisation:

Test and Connect
Our engineers will power up and connect the device leaving the standard configuration running. This allows your technical engineers to configure the services to your exact requirements. Often with the internet already installed your team does not even have to be on site.

Active Installation
All installation and configuration is taken care of by our engineers allowing you to use the equipment from day 1. Optional ongoing support and maintenance is available allowing you to either request our help or make changes as best suits your organisations needs.

Fully Managed
Our fully managed solution means exactly that. We test, connect, install and configure to your exact requirements and continue to manage the products on an ongoing basis. Warranty management and support comes as standard for future peace of mind.
Why Choose us
Our ethos revolves around delivery and service. We understand the urgency of business projects and the importance of an ongoing reliable service.